Roadkill Software's first Android Application (Android 2.1 and greater) allows you to set custom text (SMS) tones for contacts in your contacts database.
Application Settings
Use the "Settings" menu item to set up/change the default SMS Tone and to select the types of Tones you want to use for alerts. You can also limit the amount of time the app will play back tones.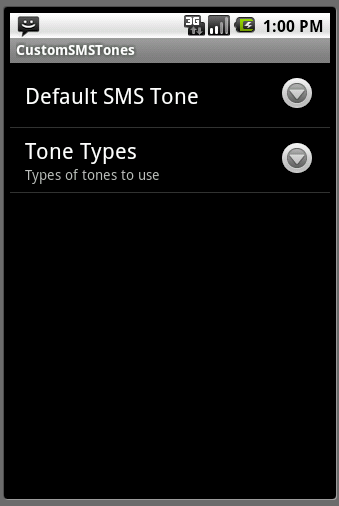 Select "Add New Contact" from the menu to open the Contact selector, select a contact to add a new SMS tone, and then select the tone from the list of available tones on your phone. This application does not allow you to install or download any new tones, it will only use tones already installed on your phone.
Once you have contacts and tones defined, click on a contact name in the list to either modify or delete that contact. If you do not want to be notified when certain contacts text you, simply set their tone to "Silent" from the ringtone list.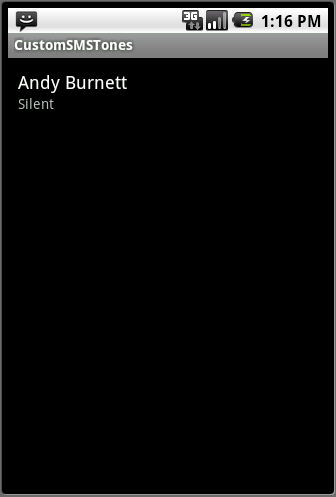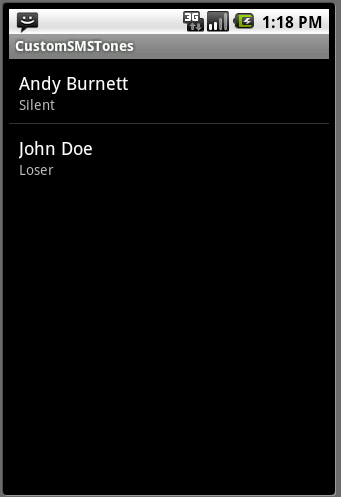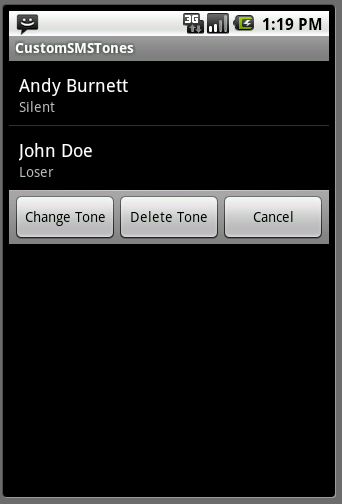 Known issues:
01/24/10: after running the application once successfully, the application now force closes on launch.

provided debug build for customer - no response
01/24/10: force close when SMS/MMS is received

version 1.0.1 fixes this issue when no contacts are configured and a SMS/MMS is received
01/25/10: You can't edit contact tones once you set them and can't customize vibration or led light

clicking on the contact in the main list will bring up a context menu that allows you to "Change Tone", "Delete Tone" or "Cancel" (see image above). This allows you to change the tone for a user. App was not designed, nor advertised, as allowing you to control the led or vibration
02/08/10: force close after phone runs low on memory

Version 1.0.2 fixes this bug

Please contact software@roadkill.com with any comments or questions.